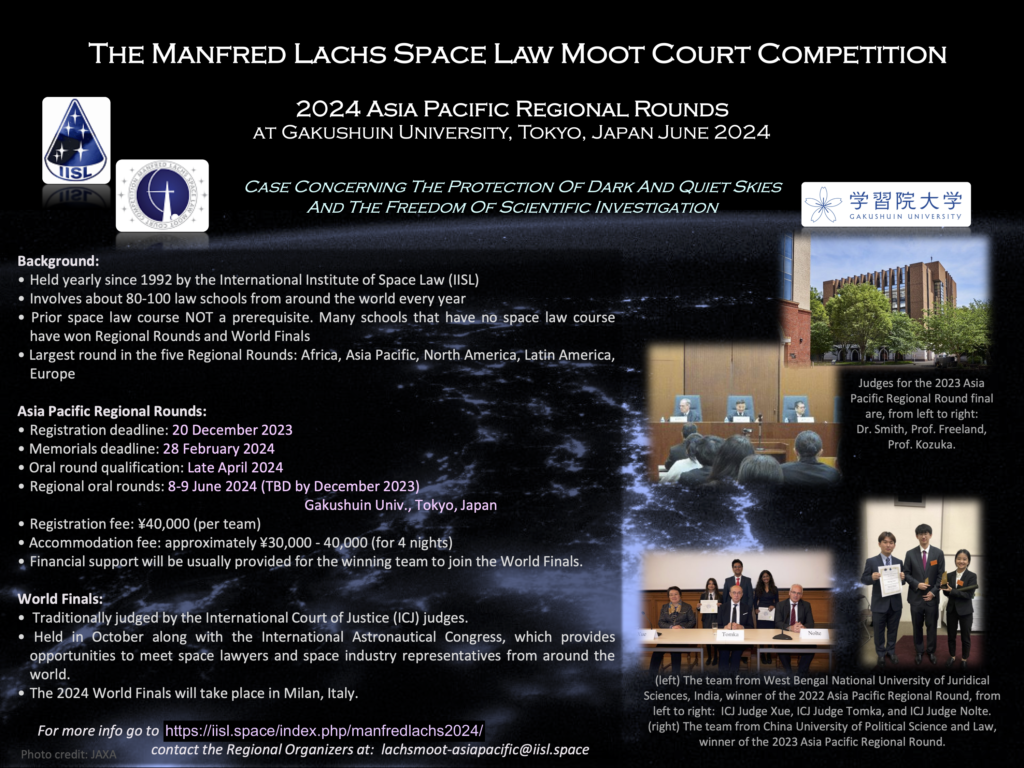 The Regional Organiser is Mr. V. Gopalakrishnan, India and the Associate Regional Organiser is Mr. Yu Takeuchi, Japan.
Queries relating to AP Regional rounds may please be sent to lachsmoot-asiapacific@iisl.space
Participating Teams shall comply with the Specific Regional Rules of the Asia-Pacific Regional Round, (adopted pursuant to article 2(2) of the Official Rules of the Manfred Lachs Space Law Moot Court Competition), for participation of the Asia Pacific Regional Rounds 2024 in all respects.
Location: Gakushuin University, Tokyo, Japan | 1-5-1 Mejiro, Toshima-ku, Tokyo 171-0031 Japan
More information about Gakushuin University
Date: 8 – 9 June 2024 (TBD by December 2023)
Registration: Open online in November
The registration will require following steps. Please check in beforehand:
1) Register online at this link: https://docs.google.com/forms/d/e/1FAIpQLSeQj6SxjdPImAbx03Z8ly1ON9bgAVAs3AmINUxE8tyOVxpbDA/viewform
2) Sign the IISL License and attach it to your registration in the respective field.
3) Submit the registration fee of 40,000 JPY to the PayPal account of the Regional Organizing Committee. (Payment instructions will be provided to your Point of Contact upon your registration. The payment due will be 31 December 2023).
Each team must have one faculty advisor. In addition, a team may have one assistant advisor.
Registration fee:
The 40,000 JPY (FOURTY THOUSAND JAPANESE YEN) registration fee per team.
Timeline for the 2024 European Rounds of the Manfred Lachs Moot Court Competition
| | |
| --- | --- |
| 20 December 2023 | - Deadline for Team Registration- Deadline for Submission of Requests for Clarifications |
| 31 January 2024 | Deadline for the Author of the Problem to give Response to Requests for Clarifications |
| 28 February 2024 | Deadline for Submission of Written Memorials for Regional Rounds |
| End of April 2024 | Announcement of the qualified teams to the Asia-Pacific Regional Oral Rounds |
| 8-9 June 2024 TBD | Asia-Pacific Regional Oral Rounds: Gakushuin University, Japan |
If you have any questions regarding the competition, please contact the Asia-Pacific Regional Organizers: lachsmoot-asiapacific@iislweb.org
Rules
We remind all teams to carefully read both sets of rules applicable to the Asi-Pacific Regional Rounds:
Videos